The Company
The Public Safety Group's motto is to provide the highest quality training at affordable prices. Our instruction is professional, motivational and can be customized specifically for your agency.
The Public Safety Group was incorporated in 1994 to train Public Safety professionals. The Public Safety Group has provided training for more than 1,000 public safety professionals a month all over the United States.
Our instructors represent the finest instructors in public safety communications. Each of our instructors has extensive public safety communications experience.
The Public Safety Group will Train Anywhere, Anytime.
The President

The Public Safety Group founder is Tony Harrison. Tony has spent more than twenty five years in  communications, working in small centers to major metropolitan communications centers. He is a Certified Emergency Number Professional, has a BA in Criminal Justice and a MA in Political Science and Urban Affairs. 
During his time in the communications center he has served as a Call Taker, Dispatcher, Communications Training Officer and Communications Training Coordinator. He was also a Communications Supervisor for 6 years. Tony has been awarded numerous letters of commendations during his service for his professionalism and attention to duty during an officer involved shooting, the federal building bombing and service on numerous department boards.Tony was the on-duty shift supervisor during the bombing of the Alfred P. Murrah federal building in Oklahoma City in April 1995 when 168 people were killed during the largest domestic terrorist event in US history.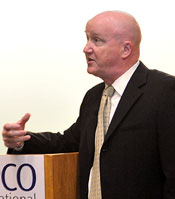 Tony served as a reserve Deputy Sheriff for the Canadian County Sheriff's Office in Oklahoma for more than 20 years and retired at the rank of Captain. This gives him a very unique insight into BOTH sides of the radio - the needs of the officer on the ground and the demands on communication personnel. 
During his service he was awarded the Medal of Valor for his involvement during a fatal officer involved shooting of a homicide, kidnapping and rape suspect.
Tony has been active in both APCO and NENA serving as a state chapter president and numerous committees at a national level including the Professional Development Committee, Project 35, project 37, Homeland Security Task Force, policies, procedures & training committee and currently serve on the Commercial Advisor Council.   
 In 2012 he was awarded life membership in APCO international.