Public Safety Training for Dispatchers and Emergency Responders
Communication skills are a must for dispatchers, 911 emergency responders and others in the disaster and emergency response field. Our company specializes in quality training products providing essential dispatchers, call-takers and other related emergency responder personnel. We offer public safety training that is customized to meet your needs for individuals and agencies.
Comprehensive Public Safety Dispatcher Training
The Public Safety Group is the best choice when it comes to comprehensive training and support services for the following:
dispatchers,
911 emergency responders,
call-takers,
dispatcher certification,
and other related emergency support personnel.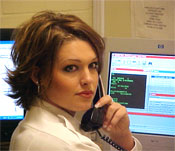 Customizable For You
We offer a complete array of products that can be tailored to your needs, including:
complete basic training,
a full list of available seminars,
in-service training you can perform at your location,
online-training,
and reference manuals to assist you in developing your own policies & procedures and training program.
Dispatcher In-Service Training - Our program, When Seconds Count®, will provide you with monthly dispatcher training at an affordable cost.
On-site Seminars - Our full array of seminars are designed to be taught at your location. They range from four hours to two days and can be customized to fit all your training needs.
Online training - We offer a full range of on-line programs for dispatchers, 911 call-takers, disaster and emergency response personnel.
Products - Our training and support products include a Policy and Procedure manual and a Communications Training Officer (CTO) program manual.
The Public Safety Group can be reached at:
P.O. Box 1468, Wake Forest, NC 27588
Phone: (919) 569-0426
Fax: (239) 676-7468